Here we are. In the midst of another rise of the never-ending Covid19 pandemic cases. As you know, if you follow my instagram, I have gone through many ups and downs when it comes to being able to find joy during these unpredictable and tiring times. My lack of being able to remain "present" and finding a sense of purpose in the recent months has reached new levels of unattainability. And, lately, I find myself leaping from idea to idea; grasping at straws trying to keep my mind busy with anything and everything that I can fit into my schedule. Painting my bathroom, trips to isolated book stores far away, amusing myself with imagining and planning journeys to the hippie towns across America, random acts of kindness to friends and strangers, painting a ridiculously hard (and still incomplete) paint by numbers… you name it, it's probably floated across my mind.
The point is, we all want to feel a little bit of completeness during a time when so little is certain. We want to feel whole where there are voids. And if we can find anything heartwarming, we'll latch onto it. And what warms the heart more than having a meal with friends and family? Not much.
Unfortunately, at this time, getting together with other humans is discouraged because, well… COVID. Yes, we know it travels, it's extremely contagious, and you have to move heaven and earth to get people to wear masks… So, dinner parties? Not really much of an option, unless you want to spend time with 15 people and have 72% change of contracting the virus. Or so said an article I read online today. Yet, I have/had been dying to just GATHER. Like, we used to. And it's brought a number of tears to flow throughout the year, knowing that it's just not possible. So, I decided to take matters in my own hands.
In the recent years, I've developed this attitude like 'I'm not gonna wait around on other people. If I want to do something, I'm going to. Even if I have to do it alone." Apparently, dinner parties are included. So, I informed my hubby that I was going to do a faux dinner party, just because and for my family. Decor and all. Just for some kind of therapy.
Now, at first, that was going to include lanterns and 150 paper cranes hanging from the ceiling. I was THIS close to ordering a massive amount of twinkle lights from Amazon and stringing them up. Nearly bought new dishes… Until, I realized that I might be getting a tad carried away. I mean, we are legitimately just trying to get by in these awkward, socially distant times. So, instead, I resigned to save my really amped up ideas for when I can fill my home with more people I love. And, decided my main objective would be to just set up a budget friendly, cozy meal that would feel intimate and a little more rustic than say handmade origami ornaments at each place setting. Are you sensing a theme yet?
I've been craving Asian food for weeks and, specifically, missing a restaurant from our home in NC. My fave dish is served there and it's flawless, along with their coconut cake for dessert. So I looked up some recipes on pinterest for what I wanted and found an overabundance of options. I decided to make the main course and dessert from scratch and accompany it with pre-prepped appetizers and sides. Yeah, I was going a real restaurant style dining here, and wrote up the menu on my dining room chalkboard a week in advance so I'd have something to look forward to. You could, of course, do this week any type of food.
Now let's talk decor and place settings. I'd like to talk about this in case you are in a little bit of a slump and want to do something simple like this in order to bring yourself and family a little bit of cheer. I'll go through what I threw together and what alternatives there are out there.
The tablescape, you'll notice, was rather uncomplicated. I didn't have time to get flowers or anything and my table is SO long that it's very hard to find an inexpensive table runner or table cloth to cover it. So, I started thinking about how some restaurants cover their tables with butcher paper and thought, "HELLO, KID FRIENDLY & easy cleanup!" But, rolls of butcher paper were like 15 dollars! This craft paper, gift wrapping paper was $1 a roll at Dollar Tree. I could've used the underside if I had wanted it plain, but I really loved the fun polkadot playfulness it gave the table. They also have plain kraft paper available for just under $2 a roll at Dollar General.
I already owned the candle lanterns and candles, which I got from walmart at the beginning of fall from Walmart. I'm linking the candles (which smell divine!) HERE. I haven't seen the the lanterns since, in-store or online, so HERE are some similar ones. And you could probably also look at places like Hobby Lobby or Old Time Pottery for something similar and inexpensive. As well as the candles.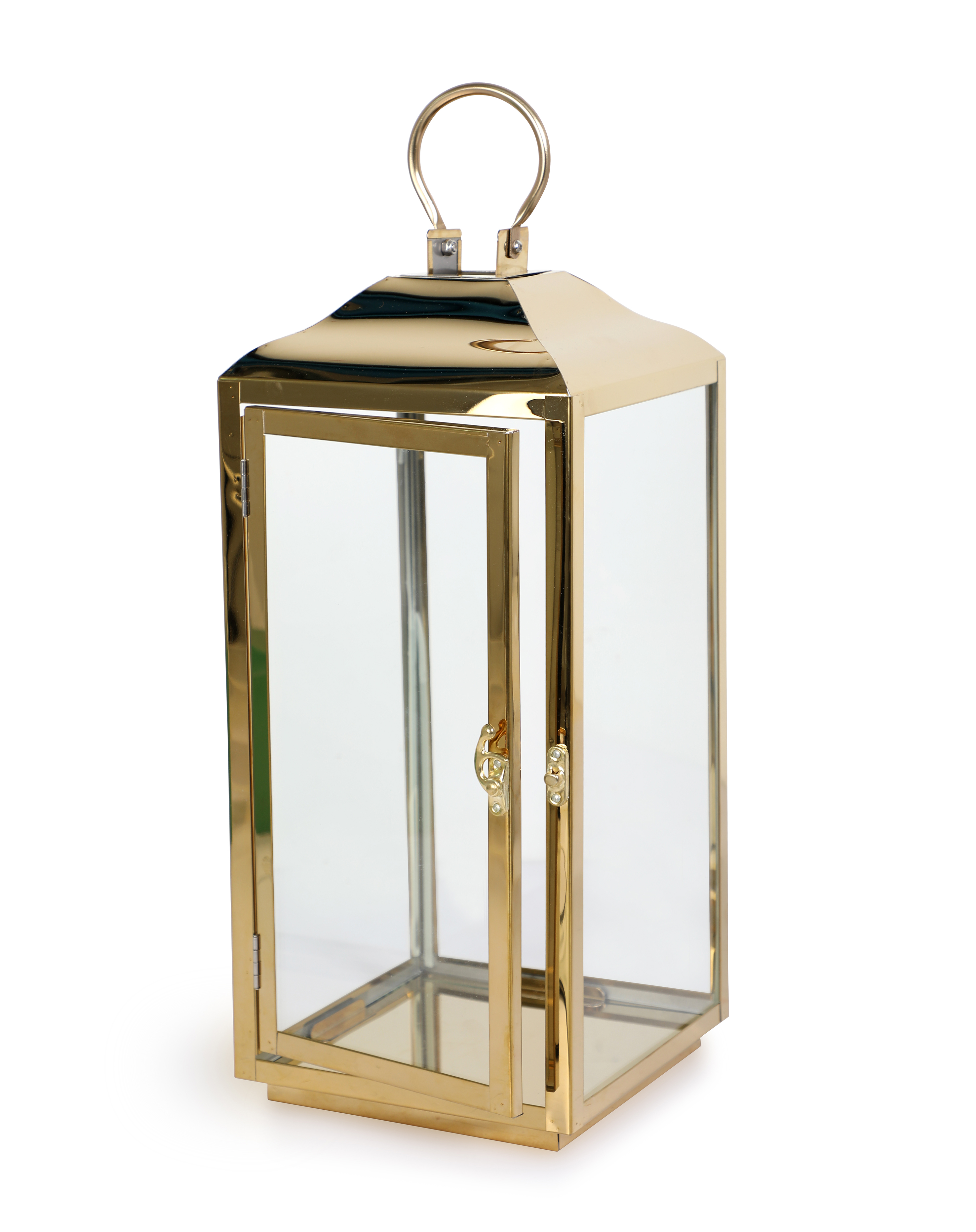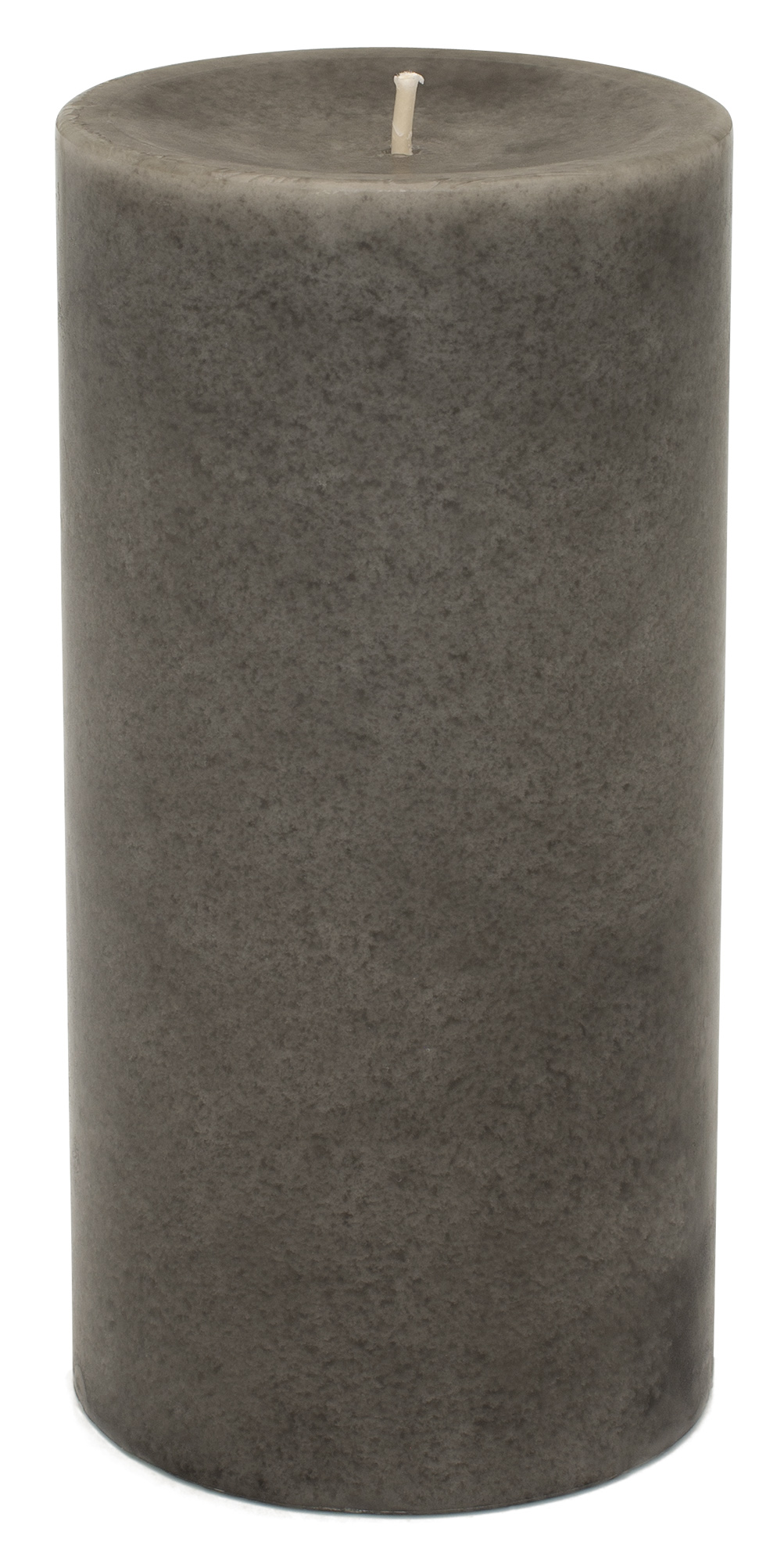 I simply bought reindeer moss for $1 a bag from Dollar Tree and filled the bottom of my lantern with it, around the candle, for a more woodsy and homey look. And to avoid fingerprints on the glass, I maneuvered it around with a spatula.
I got my snowy trees on a log, tabletop decor from Walmart for like $6, but I can't find it on their website anywhere. If you can't find anything in your area similar, you could probably craft it pretty easily with supplies from a dollar store. Or you could purchase a set like THIS from Walmart (below) or THESE glittery gems from Target.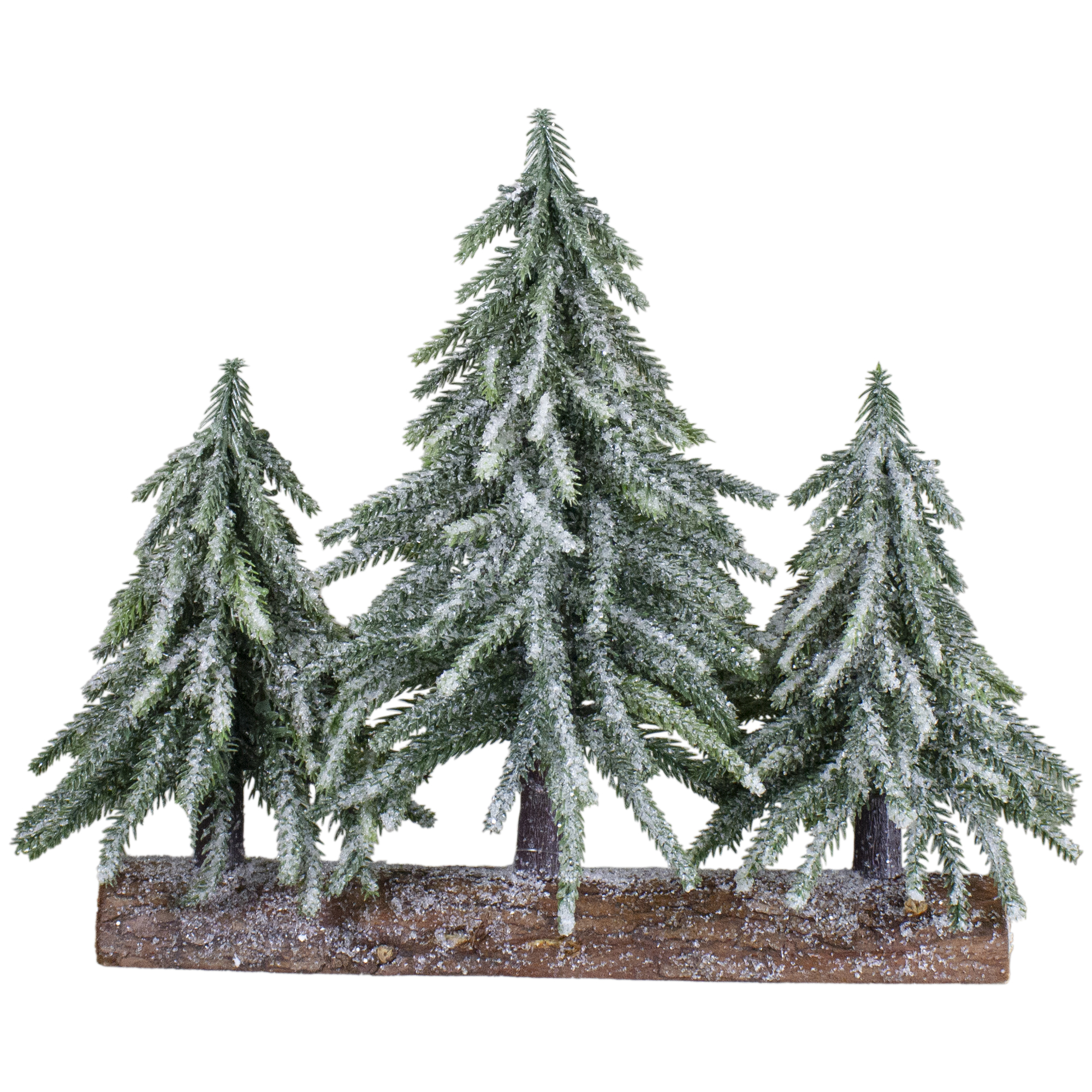 On either side of the trees, I places cutting boards to place appetizers on and flanked them on one side with a beaded garland I got from Amazon earlier this year. I also used four, mercury glass votive holders I found at Dollar General for $1 a piece on each corner. They are adorable and I'll definitely be reusing them again and again. I found a similar set of 12 on Amazon HERE.
Now, let's talk about dishes! Mine are by Magnolia (Hearth & Hand) from Target and I got them a little over a year ago as part of their fall collection. They are no longer available, but if you are in the market for new dishes, I strongly suggest checking out what they do have in stock. Such as the beautiful, red rimmed dishes they just came out with!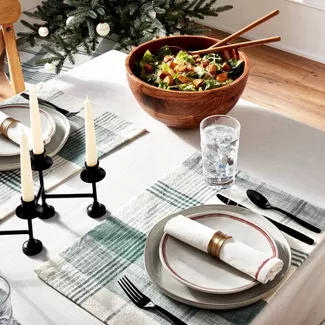 I used the mixed matched silverware that I already own (I'm due for a new set) and wrapped it with $1 white napkins from Dollar General & found red burlap ribbon on sale to tie it up with. Next time, I may go ahead and spring for some more expensive linen napkins like the ones I've found online (below). And if you are having a little fancier of an event with more extended family…etc, it would definitely be a nice touch. You could even do matching ones with your dishes like the photo above.
There are also plenty of nice biodegradable options online. Like these palm leaf plates! Which are a great, more natural, primitive choice.
That's about it. I would've done placemats like these had I thought about it beforehand, so that's also an option. I also, ordered chopsticks because of the nature of food, that only set me back $6.99. Plus, everyone loves chopsticks! Twinkle lights also came into play all over the room where I could hide the LED battery pack HAHA! Spent $5 on 5 packs of those at the dollar store and they were a nice addition to the cozy, hygge factor. And the candlesticks on the mantel + burning wood stove in my dining room didn't hurt anything either.
Overall, I spent approximately $28 (not counting all the groceries for dinner) and repurposed a lot of things I already owned. I hope this gave you a lot of ideas of how you can easily create a comfortable, spruced up space for you and your loved ones to enjoy a special dinner despite everything going on in the world right now. You don't have to have a lot of money to enjoy a nice, memorable evening together- even if you've already spent months in the same house. Take the time out to make your life extraordinary!